Pink Anemonefish (Amphiprion perideraion)
From The Aquarium Wiki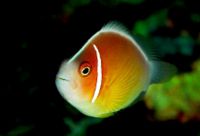 This animal is available captive bred
Additional names
Pink Anemonefish, Pink Skunk Clownfish, Salmon Clownfish, White-Maned Anemonefish, Whitebanded Anemonefish, False Skunk Striped Clownfish
Additional scientific names
Amphiprion perideraeus, Amphiprion peridaeraion, Amphiprion rosenbergi, Amphiprion rosenbergii, Amphiprion amamiensis
Western Pacific: Gulf of Thailand and Cocos-Keeling in the eastern Indian Ocean to Samoa and Tonga, north to the Ryukyu Islands, south to the Great Barrier Reef, and New Caledonia.
These are hermaphroditic Clownfish. They are monogamous, and host an anemone with one large female, a smaller male and several juveniles. If the female is removed, the male will change sex and one of the juveniles will become the new functioning male.
Peaceful
Omnivorous
Daily
Reef tank
Mixes well
Similar to the Skunk Clownfish, but the body has more of a pinkish tinge, and there is a slender vertical white bar just behind the eye.