Moorish Idol (Zanclus canescens)
From The Aquarium Wiki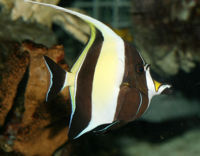 Additional names
Moorish Idol, Gill (Finding Nemo)
Additional scientific names
Chaetodon cornutus, Chaetodon canescens, Zanclus canescens, Zanclus cornutus
Not easy to visually sex.
Notoriously hard to keep alive in captivity due it being an extremely fussy eater. Needs a matured marine tank with plenty of algae on live rock to graze on.
There are several other marine fish, specifically Butterflyfish, that look remarkable similar to the Moorish Idol, this includes the Heniochus acuminatus. The Idol is recognised by being disc-like and compressed in shape with small snout, much like the Zebrasoma flavescens. The mouth has a v-shaped yellow marking bordered by black on either side. It's body is coloured with two thick bold vertical black bars with a white/yellow base colour, the caudal fin is also black and edged with blue. All the fins on this fish are relatively small. Except for the dorsal fin, where 6 or 7 spines are elongated creating a crest, which gives the fish it's name, "Zanclus cornutus" means "crowned scythe".